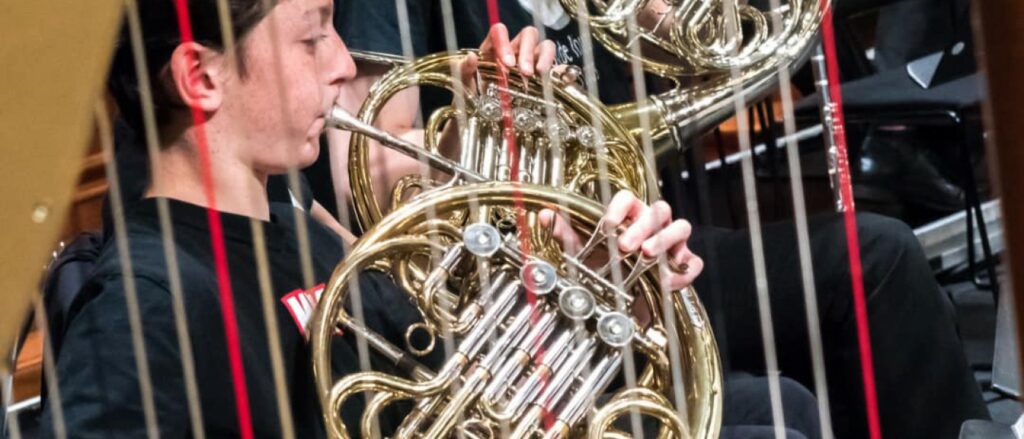 The 80-piece Adelaide Youth Orchestra (AdYO) is the organisation's  senior orchestra comprising young musicians aged between 13 and 24. AdYO was founded in 2001 by Janis Laurs, one of Australia's leading cellists and teachers. In 2003, Keith Crellin OAM took over the reins as principal conductor, and has guided the orchestra through a dynamic decade of inspirational live performances and exceptional artistic development. AdYO's success can be attributed to the diversity of its players. Selected through a rigorous audition process, young musicians are drawn from all corners of Adelaide, as well as regional areas. Some are high school students, while others are at tertiary level, studying degrees ranging from music to medicine. Many former members are now studying or performing with leading Australian training organisations, such as the Australian Youth Orchestra, the Australian National Academy of Music, ACO Collective and Sydney Sinfonia (Sydney Symphony Orchestra's training program). Others are forging professional music careers in Australia and overseas.
As the organisation's lead ensemble, AdYO has the credentials to attract distinguished guest performers and conductors to join its concert programs. Most recently leading violinist Elizabeth Layton performed Chausson's  exquisite Poème for Violin and Orchestra.  Other examples include Elgar's Sea Pictures with mezzo-soprano Elizabeth Campbell, under the baton of Nicholas Braithwaite, and Rachmaninoff's Rhapsody on a Theme by Paganini with star pianist Konstantin Shamray, led by guest conductor Luke Dollman.  
Concert repertoire is chosen to provide exhilarating programs for audiences whilst allowing our students to be challenged and given the most rewarding learning and performance experience possible. AdYO is committed to performing and programming Australian works. This has included the premiere of Calvin Bowman's song cycle The Purple of Heaven, written specifically for the orchestra, and tenor, Robert Macfarlane. Other performances include works by Sculthorpe, Meale and Koehne. This year AdYO will perform Three Miro Pieces by Richard Meale.  
Adelaide Youth Strings
The 55-piece Adelaide Youth Strings is our dedicated youth string ensemble, poviding primary school aged children (approx 8 to 13) who play violin, viola, cello or double bass, with an opportunity to develop their musical abilities in a fun and rewarding environment. Adelaide Symphony Orchestra violist Martin Butler, has been conducting since 2001, helping many of our youngest students improve their intonation, bowing, tuning and ensemble skills. Adelaide Youth Strings undertakes an annual touring program both to schools where fellow primary school students can enjoy the incredible experience of hearing a string orchestra perform live often for the first time.
Adelaide Youth Winds 
Adelaide Youth Winds enjoyed its first season last year as 30 beginner-level wind, brass and percussion primary and young secondary players came together in a fun and creative environment.  This new junior wind ensemble is under the inspiring leadership of Sarah Byron. Adelaide Youth Winds is now a staple Orchestra for our organisation and we cannot wait to see what they will do next! 
Adelaide Youth Sinfonia
Adelaide Youth Sinfonia (AdSI) is AdYO's second orchestra, consisting of over 60 musicians, aged between 12 and 20. AdSI members are a mix of secondary school and tertiary students, many of whom will develop their skills further and audition for a place in the 80-piece Adelaide Youth Orchestra (AdYO's senior orchestra). Each year, AdSI presents regular concerts with its sister orchestras, Adelaide Youth Wind Orchestra and Adelaide Youth Strings. It also holds a popular annual concert, Junior Proms, for children one to five years old. Adelaide Youth Sinfonia regularly performs orchestral masterpieces by composers like Brahms, Dvořák, Mussorgsky, Sibelius, Saint-Saëns and Stravinsky as well as programming Australian compositions. In recent years, it has performed works by composers Iain Grandage, Katy Abbott, James Ledger and Natalie Williams.In 2016, Adelaide Symphony Orchestra violinist, Minas Berberyan was appointed as Adelaide Youth Sinfonia's new conductor.
Adelaide Youth Orchestra Ensembles
The AdYO ensembles currently include two String Quartets and a Wind Quintet. Made from some of the AdYO's leading players, these groups perform in the Senior Heroes concerts, schools concerts, house concerts and at other special activities. These smaller groups provide a wonderful opportunity for players to develop special chamber music skills and benefit greatly from expert tutoring. This is provided by leading musicians such as the ASQ , members of the ASO ,visiting artists and Elder Conservatorium of Music staff, who work with the groups on listening, technical and small  ensemble building skills.